SOURCE: Ben & Jerry's or prnewswire.com
It's the year's best unofficial holiday. And there's no limit to the times you can get in line!
BURLINGTON, Vt., March 12, 2019 /PRNewswire/ — Mark your calendar, set your alarm, and get ready for the Ben & Jerry-est day of the year. Free Cone Day is April 9!
Every year Ben & Jerry's fans (and future fans) get a scoop of the good stuff ABSOLUTELY FREE. The tradition started in 1979, when Ben Cohen and Jerry Greenfield wanted to thank their Burlington, VT community for helping them make it through their first year in business.
(PRNewsfoto/Ben & Jerry's)
(PRNewsfoto/Ben & Jerry's)
(PRNewsfoto/Ben & Jerry's)
(PRNewsfoto/Ben & Jerry's)
(PRNewsfoto/Ben & Jerry's)(PRNewsfoto/Ben & Jerry's)
Today the company sells its euphoric chunks and swirls in 38 countries, and Free Cone Day is celebrated in Scoop Shops around the world. More than 1 million scoops will be given away on April 9, from classic Cherry Garcia to new favorites like Wake & "No Bake" Cookie Dough Core. Ben & Jerry's first claim to fame, Chocolate Chip Cookie Dough, is now available in original and non-dairy versions, so there's something for everyone.
Ice cream lovers who find themselves in a cone-undrum over which flavor to choose can simply get back in line a second (or third, or fourth!) time.
To find your nearest participating Scoop Shop, visit www.benjerry.com
About Ben & Jerry's
As an aspiring social justice company, Ben & Jerry's believes in a greater calling than simply making a profit for selling its goods. The company produces a wide variety of super-premium ice cream, yogurt and sorbet using high-quality ingredients. Ben & Jerry's incorporates its vision of Linked Prosperity into its business practices in a number of ways including a focus on values-led sourcing. In 2015 the company completed its transition to using entirely non-GMO (genetically modified organisms) ingredients by source as well as to fully source Fairtrade-certified ingredients wherever possible, which benefits farmers in developing countries. Ben and Jerry's products are distributed in 35 countries in supermarkets, grocery stores, convenience stores, franchise Ben & Jerry's Scoop Shops, restaurants and other venues. Ben & Jerry's, a Vermont corporation and wholly-owned subsidiary of Unilever, operates its business on a three-part Mission Statement emphasizing product quality, economic reward and a commitment to the community. Ben & Jerry's became a certified B Corp (Benefit Corporation) in 2012. The Ben & Jerry's Foundation's employee-led grant programs totaled $2.7MM in 2018 to support grassroots organizing for social and environmental justice around the country.
SOURCE Ben & Jerry's
Related Links
https://www.benjerry.com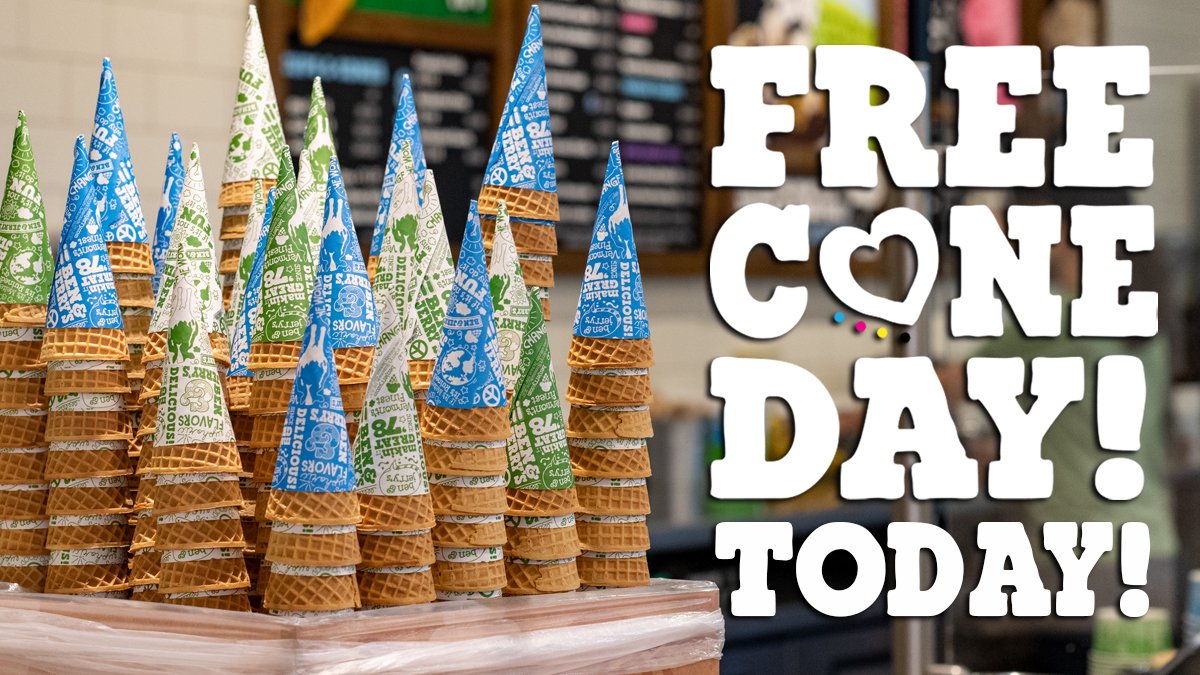 Note: We are not responsible for typo error, price change, substitute item, or available of item from online ads.
https://www.prnewswire.com/news-releases/ben–jerrys-declares-april-9th-free-cone-day-300810230.html