SOURCE: MyPlates or prweb.com
More Texans used the "heart" symbol on their license plate that any other symbol
AUSTIN, TEXAS (PRWEB) FEBRUARY 13, 2019
February is known for being the month of love and with Valentine's Day just around the corner, many Texans are rushing around placing their last-minute orders for flowers and chocolates for that special person in their lives. Some Texans on the other hand are turning to expressing their love on their bumper and making a more personal statement for all to see.
In fact, the "heart" is the most beloved Texas symbol chosen when ordering personalized plates from My Plates, the official vendor for Texas license plates.
Over the last 12-months, more than 2,700 Texans entered a long-term relationship with the Heart, making it Texas' favorite symbol! In second spot was the Texas Silhouette with 2,156 orders and coming in third was the Star, recording 1,582 orders. There are five symbols/special characters available in Texas, with the Dash and the Period rounding out the selection. Over 8,000 orders received in 2018 used one of these symbols.
My Plates: 2018 Special Character Use
Heart symbol 2713
Texas Silhouette 2156
Star 1582
Dash 1130
Period 442
The way Texans showed their hearts on their bumpers, instead of their sleeves, varied in many ways. They declared soulmates, adored family and pets, showed a deep bond with their cars, were head-over-heels for their sport or college, loved their profession, state, country, faith and mascots and even had a deep crush on their love for tacos.
If you want to make a love connection, the heart symbol (and other four special characters) is allowed on all Texas personalized license plates and will take up one full character space. So, if you'd like to put more "heart" and soul on your bumper, Texas has you covered.
For those Texans that love an easy to remember plate message, then you may like the ID Plate Series. The ID Series starts from AA-00 (zero, zero) and goes all the way through to ZZ-99.
With only four characters on the plate, they are EZ to remember!
____________________________________________________________
My Plates designs and markets new specialty license plates as a vendor for the Texas Department of Motor Vehicles. Texans have bought more than 400,000 My Plates since November 2009, putting more than $70M in the state general revenue fund. My Plates' goal is to create a long-term, mutually beneficial relationship designed to maximize revenues for the state through the sale of My Plates specialty plates. http://www.myplates.com.
The Texas Department of Motor Vehicles (TxDMV) serves, protects and advances the citizens and industries in the state with quality motor vehicle related services. For every $1 it spends, TxDMV returns $11 to the state. Each year the agency registers more than 24 million vehicles; issues more than 8 million vehicle titles; licenses approximately 34,000 motor vehicle dealers and distributors; credentials more than 60,000 motor carriers; issues more than 650,000 oversize/overweight permits; investigates approximately 13,000 complaints against dealers and motor carriers; and awards grants to law enforcement agencies to reduce vehicle burglaries and thefts. Learn more at http://www.TxDMV.gov.
For more information, contact Steve Farrar at (512) 633-7978 or steve(at)myplates.com
Group Plate image download
https://ce9a9387e1bc258c3cfa-af7906f4e771b24864bbfa3048e4a635.ssl.cf2.rackcdn.com/Feb%202019_PR_Images.jpg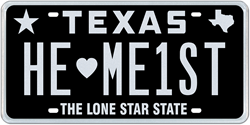 Note: We are not responsible for typo error, price change, substitute item, or available of item from online ads.
https://www.prweb.com/releases/according_to_myplates_more_texas_drivers_lead_with_the_heart/prweb16100550.htm